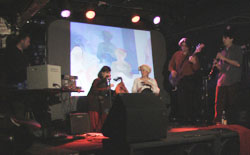 Incorporating Middle Eastern music and dance, St Louis band
Final Veil
celebrates classical Egyptian music with original interpretations.
Cora Camille
and
Catherine Kustelsk
i began working together in early 2005 when they kept crossing paths, as belly dancers and as musicians. Driven by the desire to create music and also to dance in collaboration with musicians, these women formed Final Veil.
Cora plays oud (a twelve-string fretless Egyptian instrument) and sings in Arabic and English. During her 15 years dancing with Simone's Seventh Veil, Cora transferred her dedication and interest in dance and music by learning Middle Eastern dance songs on guitar. She fell in love with the oud while studying for a year in London with Wadie Nossier, renowned oud maker and former music professor from the Cairo Music Institute.

Attracted to Middle Eastern dance by its music as well as for its holistic benefits, Catherine began Middle Eastern dance over 8 years ago and plans to dance for life. Attraction to the percussive elements of dance led her to explore Egyptian rhythm with doumbek (drum) and zills (finger cymbals). Catherine teaches dance and also performs with St Louis country band Maid Rite.
Seth Weissman on clarinet harbors a long love of Middle Eastern music. The newest member of Final Veil is songwriter Billy Dechand, on bass guitar. Recently moved to Saint Louis from New York City, Billy has been commuting between the two cities to finish up his fifth CD release, In Dog's Country.

Cora and Catherine's dance collaborations with filmmaker Zlatko Cosic showcase their work with veils and sword, adding a dynamic element to Final Veil live performance.

Final Veil Photos (Hi-Pointe, March 2, 2006)

www.myspace.com/finalveil